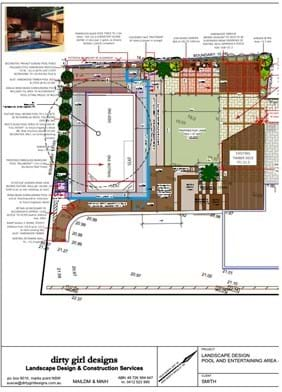 What you get:
An outstanding landscape design which combines the required functionality of a space with your desired style, aesthetics and ambience in a seamless and enjoyable process.
You'll receive a set of 3D plans, in both electronic and hard copy format, perfect to build your dream garden from.
How it happens:
The secret to a great concept design is to consider three key elements: people, process and tools.
The involvement of the right people in the creative design process is critical to its overall success. Combine a professional, creative and experienced designer with your ongoing involvement in the process and you have a winning combination.
The process is iterative in nature and each successive step builds detail and refines the creative concept. Dirty girl designs customises a three step process to meet your particular circumstances, with a review at the end of each stage.
The tools used must enable great design via the accurate depiction, communication and sharing of the emerging concept at each stage of the process with ease, taking advantage of technology to do so. We use professional CAD software and you can view your plans at any time as they are always available online via your secure login.